Select Quantity, Sizes & Colors
These are printed, not embroidered face masks. The National Institute of Standards and Technology (NIST) just released a study indicating that the most effective face mask, short of a "N95" surgical mask is a multi-layer 100% cotton mask with a little texture on it. You can see an article on the study on the
NIST website.
These masks are 4 ply 100% cotton jersey fabric and have just a little texture. They are soft, durable and washable and the most affordable option we have found for a decorated face covering.
Unfortunately, in order to keep this price low, there is a 50 piece minimum per color, and a one color restriction on your logo. For more face coverings, some with lower minimums, and other printed and embroidered Covid related products, please click on the link at the top of this page titled Face Masks & PPE.
Features include:
- Body: 100% Cotton, 4 Layers, 125 GS
- Binding And Ear Loop: 95% Cotton, 5% Spandex
- For Non-Medical Use
- Single Imprint Color Only
- Imprint Area: Middle Center (Nose/Mouth): 3 1/2"W x 2 1/4"H
We realize that a 50-piece minimum for printed face masks may be too high for many of our customers who are used to the low minimums of embroidery. This is due to the nature of the equipment used to print on them.
To set up a screen-printing machine to run a job can take up to 45 minutes. To set up an embroidery machine to run a job can take as little as 5 minutes. When a printing press is set up to run a job, it must run long enough to cover the cost of setting it up. Plus, every print must be the same, so it is not possible to combine different color combinations in an order. Embroidery is a lot more flexible. That is why the minimums are so much higher for all printed items. Printed items also tend to be less expensive than embroidered items, so more need to be run to cover the cost of machine set up time.
Show More
Customer Reviews
71 Reviews
71 reviews by

Trustpilot
0 by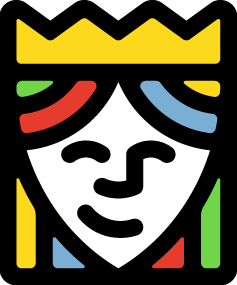 Queensboro
"My small business has purchased 450 of these masks since mid-July - in light blue, royal, dark blue and lime green (our company colors are blue and green). Our staff use them and we give them away to our clients. They are a great price compared to some of the other products available elsewhere and these are 4-ply. They also cover the nose and mouth effectively, and stay up better than most when you're taking. They wash well and if you inadvertently dry them, they have held up very well. Best of all, all three orders were received in advance of expectations."

by Spring Environmental, Inc.


2 days ago
"We received a sample mask and the oval quality was fair at best. Being 100% cotton doesn't allow these masks to have much stretch to fit different size faces. Not the quality I was expecting from Queensboro. "

by Choice Technical Services Inc


4 weeks ago
"I know a lot of people are complaining about the quantity minimum, so I wont speak to that as we needed more than 100 so it had no bearing on us. They are very high quality masks. They are stitched extremely well and our logo looks great on the final product. They feel like a soft washed t-shirt. It took them less than 10 business days to get to us from design stage to our door. We have always been impressed with Queensboro and this product is no exception! "

by Food Outreach Inc.


1 month ago
"I did get a sample mask in my order. I was pleased with the quality and comfort of the material. But these masks are a bit small and real tight on the face. Good for a small face but not average like mine. The 100 minimum order puts these out of reach for most people who need them. My suggestions would be to lower the minimum order and have a couple different size straps. Otherwise, the quality is good for a material mask. I would love to order these if those things were flexible."

by Patrick Perl


1 month ago
"Dear Fred, The masks were to tight for all the adults that tried them. How about line of neck gaiters available in quantities of 5 or more. Your market is essential working class that needs comfortable nonrestrictive face coverings that do not distract from where their attention should be. Kelli Pletsch, Pletsch Plumbing " If I had it to do again I'd be a plumber" Albert Einstein "

by Kelli Pletsch


1 month ago
"Come on Fred - can we order 10? Please advise "

by Bruce Barber


1 month ago
"I join with the others to say that a 100 mask minimum is waaay too much. You need to find a better solution. I say 25 minimum at $.95 sounds about right."

by Greg


1 month ago
"Since embroidery takes less time to set up why not so embroidery with a very small logo or allow the mask to be blank for lower minimum. "

by 1962


1 month ago
"Nicely done "

by Tito & Ari Painting


1 month ago
"Ouch!.. Has Queesnboro staff actually been READING the comments on this product? Because, I too have been looking to buy logo screened masks, and from having used these guys before, I (having been looking elsewhere) clicked to see what Queensboro had to offer. To my disbelief (and in total agreement with the other comments) was just blown away! I WOULD HAVE made my purchase from QB, but have absolutely no need for that many masks!! And at the expense?.. I'll be buying them elsewhere. Good luck QB."

by David Smith


1 month ago
"Queensboro is always my go to for my company apparel. I inquired early on regarding mask and they finally became available. To my surprise the quantity of an order was shocking, my company is small and do not require 100 mask. My business still remains closed but I would like to mail to my clients and staff as a thank you for their continued support and to continue to market my brand. It would be nice to get the quantity down to 10 or 20 from reading the other reviews you would sell a lot more mask. "

by One Step At A Tyme


1 month ago
"These masks are very small for an adult. We bought the minimum 100 and they barely fit my little head much less our male technicians. They suck in to your nose when you breathe making it hot and uncomfortable."

by Lori McDowell


1 month ago
"I was all excited to purchase these masks with my logo on it. But upon reading that you require a 100 mask minimum order is absolutely ridiculous. I have no need for 100 masks they should be sold in lots of 10. Please let me know if this absurd minimum order policy changes and I would be happy to order the masks moving forward."

by PHILIP SEBLANO


1 month ago
"4 for the mask, lose a star for not being adjustable. The sample mask is very breathable, well actually, the best mask Ive tried this year. The 100 minimum is concerning, please review and consider. I believe if you drop the number down to 20, it would be a top seller. #dacoachspeaks"

by D. Samuel Services


1 month ago
"Shipped quickly. Comfortable fit. Slight shrinkage with drying but continues to lay flat!"

by Spring Environmental, Inc.


1 month ago
"I too am jumping on the "high minimum order" train. For small businesses like mine, minimum of 12 should be enough for our employees even if we have 1 or 2 left over. This is just my opinion."

by FIST Installation


1 month ago
"WHY in the world would you require such an outrageously high minimim order? I would love to buy some, but nowhere near 100. Since it's screened, it seems doubly outrageous. Have you considered the many comments here and do you plan to lower the minimum? Would love to use you, but will go elsewhere if I have to do so."

by CommuniGroup


1 month ago
"The masks are very soft and fit nice. They are the most comfortable over ear masks I've worn since this craziness has started. The only reason I didn't rate them at 5 stars is because the screen print was not 100%. I'm not sure if it's the type of material or not, but the logo screen print is thin so the underlying material color bleeds through. I'm used to seeing solid logo color only. This aside they are very nice masks and I plan to order more. The minimum is high, but they go super quick. Everyone wants one and hopefully everyone will be sporting my logo! That is the point. "

by Fukuda law firm


2 months ago
"This is a cheap bad product, do not waste your money in it."

by United Spirit of America


2 months ago
"Min 100 is too way much. Unless if the items have already been try on. Just to see how it fit and feel, Min 10 should sound good."

by Freedom Equity Group LLC


2 months ago